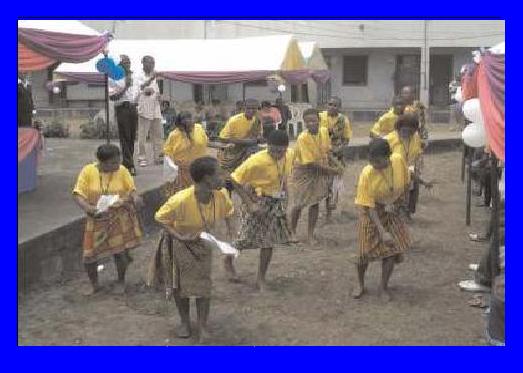 History
The link between Friends of The Disabled and the street boys in Lagos was a
tricycle bought for a disabled girl in Obowo Local Government in Imo State.
We started to care for the disabled as far back as 1990. In the year 1992, Chief
Mrs. Orduh discovered, applied her skills as educationist, and began to teach a
group of homeless disabled boys numbering about 50 (fifty) , basic literacy
in a shelter in a car park on Lagos island where they lived. Many of the boys
contracted polio in childhood causing lower limb disabilities. They had to beg
alms to survive in the local community, weaving in and out of the Lagos traffic on
their skate boards. The teaching was made easy when some of her teacher
friends joined her in Car Park IV to educate these boys. At first we were in the
open air and later A. C. Foods allowed us to use their generator house for
classes. They were grouped into five and each group received lessons once a week.
In 1996, Friends of the Disabled was given the defunct and dilapidated NRC
Secretariat, in Oja-Oba, Lagos Island through Lagos Island Local Government.
It is through the generously of National, International, Individuals and groups,
Corporate Bodies and Embassies that this place was refurbished as it is today.
This place provides safe, haven for the boys and girls and from which the
Vocational Centre was developed. In 1999, the Vocational Training was
opened providing the opportunity for the disabled and non-disabled persons to
learn practical skills for use in the employment market/establishment of
business. The students choose trades ranging from metal work to fabrication,
He care and help for the disabled and the disadvantaged persons was an
inspiration ever before Chief Mrs. Orduh met the disabled street boys in Lagos.
She came in contact with them through buying a tricycle they built. It was a big
surprise to her that such young boys were not educated. They have been
denied the opportunity to develop the enormous wealth of talents, intelligence
and humour she found in them. The Organisation's belief is that all people are
created equal and have the right to dignity, respect, self reliance and
independence. Friends of The Disabled was established to help the
disadvantaged in the society, whether disabled, poor or elderly, through self
help empowerment and development that gives self esteem.
through tailoring, shoe making to carving,cane works and poultry. As years role
by,different groups made different choices of trades and that gave rise to the
dropping of wood works and carving in preference to bead making and
computer. We take contracts in metal works as well as building tricycles, skate
boards and crutches for the students and for sale. We also provide quality foot
wear that competes very well in the business world. Money realised helps to
sustain the Centre and also offers positive incentives to producers. All students
are encouraged to attend literacy classes in the evenings. They need to
communicate effectively in English and also compute simple numerals in order to
survive the business sector of skill acquisition. Those on continuing Education
have special period to have their lessons without clashes with Vocational training
periods.
The Centre does not feed the students daily now, but gives out food stuffs as
donors provide. The Centre also provides support and guidance to those in
need.
To reflect these developments, a Volunteer joined us in 1999 as Project Coordinator for two years and trained a counterpart to replace
him. In 2002 another VSO served with us for one year. An Administrative
officer, a disabled manages the Computer Section now and impacts his
knowledge to others who equally becomes computer literate. The disabled
girls have had their place since 2001. They need skill acquisition and education
more than non-disabled girls to take care of themselves now and in future.
ACHIEVEMENTS
We have helped five of the disabled secure jobs in Federal, State, Local

Governments respect ively, and companies including those we did not

train. Our Vocational and Educational Centre has structures, equipment and

tools that stand the test of time. All groups trained in each trade have been given

equipment and tools for their self employment/business ventures. A disabled lady

is in charge of a business outfit established in Obowo Local Government Area of

Imo State for income generation and training for both the disabled and non-Disabled youths.

The Education Section has successfully prepared four sets of nine students from

the continuing Education, who sat for G.C.E. in 1999, 2001, 2002 and 2005

respectively. Only one had his result ceased. The list had three credits and two

passes while others had four or five credits including English and Maths. Two

of the disabled with academic skills are currently in higher Institutions of learning,

University of Lagos and Bayero University respectively. One of the two is

among the boys picked from the Car Park IV in Marina Lagos. We have

successfully integrated the hearing and speech impaired youths in our computer,

tailoring and shoe making sections respectively while their presence has

facilitated sign language hearing in the Centre.
PRESENT AND FUTURE
We want to consolidate what we have and to replicate our project in other geographical areas.Our goal is to ; Create jobs and reduce/eradicate poverty;confront sources of stigme and isolation (HIV/AIDS) through awareness campaign and education of the public;Sensitise the state and federal government respectively for them to establish commission that cater for people with disabilities in which a disabled will be the head.
How do you feel about these?

Come along and join hands with us in the struggle.

Sign and View Guestbook
This is a great place to know more about life with the disabled.
Acknowledgement
We acknowledge and thank our numerous supporters and ask that work continues as there are still poor people to share our lives with. http://globalgiving.com/proj80a.html